Table of Contents
Changes to Batch Reports in version 2.47
MARC Report 2.47 adds a new report type to Batch mode, and also adds a number of options to the module. In addition, some of the existing options have been re-located in an attempt to clean-up the interface. However, all of the previous options, and functionality, have been preserved.
This page illustrates the changes with a series of screenshots. For complete details, refer to the Help in the program itself.
Main options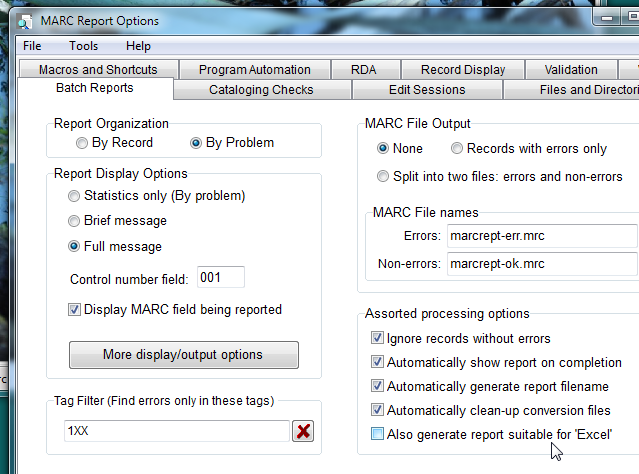 Looking at the main options page for Batch Reports, there are two important changes to note:
First, on the left, is a button named 'More display/output options'

Second, bottom right, is the option to enable the new 'Excel' report-type
General options
Pressing the 'More…options' button displays the following form: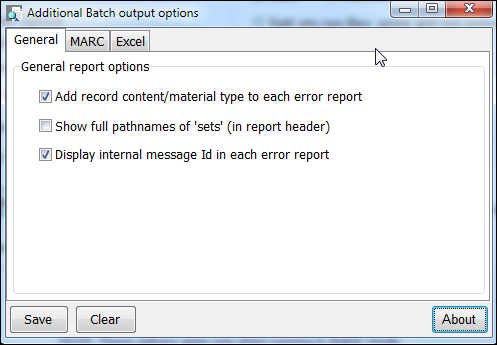 Note that this form is organized into three tabs or pages:
All of the options on the 'General page' were previously scattered about the main Batch options form. In addition, the option 'Add record … type' to each error report has been enhanced so that if the record contains the RDA Content Type field (336) that information will be displayed, instead of the more generic leader record type data.
MARC Options
On the MARC page, after the first item (previously located on the main Batch form), are a number of completely new options: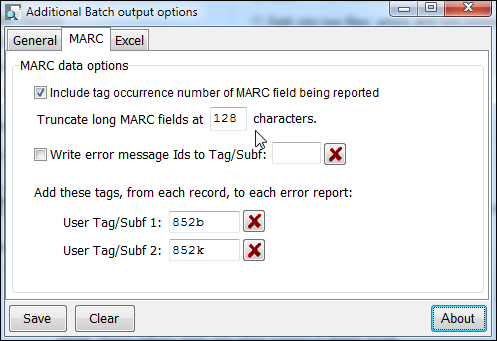 'Truncate long fields' lets you decide at what length long fields should be truncated when the 'Display MARC field being reported' option (on the main form) is selected.
'Write error message Ids …' makes it possible to add error information directly to the MARC record itself. The idea here is that you can later filter these records on specific message ID numbers using MARC Review.
Finally, a new section has been added to support adding any Tag/Subfield to the error reports. If selected, this data will be displayed similarly to the 'Display MARC field' option.
Excel Options
The last page displays the Excel report options: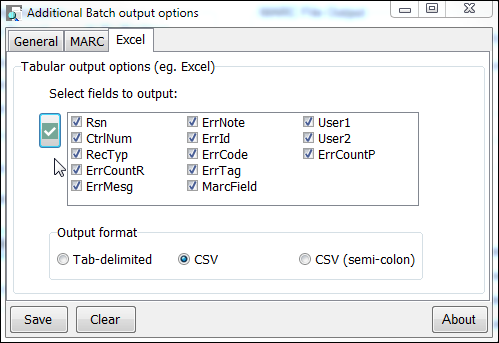 There are two sections to this page, 'Fields to output', and 'Output format'.
The first is where you decided what columns you want to see in the report. Click the 'About' button for a complete description of what each fieldname refers to. Click the big checkbox on the left to quickly toggle all of the fieldnames on or off.
The second option determines the output format. For best result, use CSV; or, if in Europe, use CSV semi-colon. Tab-delimited might be useful in applications that do not support CSV.
Back to top