MARC Report 238: Titlelist view
If the screenshots are too small, please click on them to view a full-size version
In version 238, the title list report has become an application in its own right. Simply select the 'Title List' tab on the left and press 'Create' to quickly generate a complete title list for the current file. The title list may be sorted on any display field simply by clicking on the corresponding column header.
If you do not like the default fields that are displayed–for instance, perhaps you would like to display the publisher and the data in separate columns; or display an 035 instead of an 001, etc.–you may change them to whatever you like using the 'Define' button at the bottom of the page: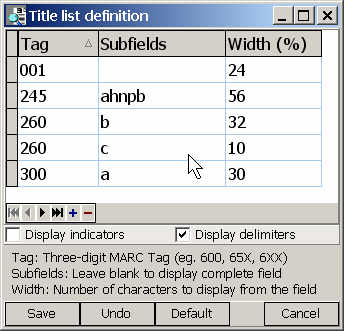 ---
Also, each column has a sophisticated filtering interface available simply by clicking the top right of the column header.
This filter interface initially displays a complete checkable list of all data values for a column–
---
–but clicking on the 'Custom' option reveals a customization menu where you may define your own boolean match criteria for the column:
---
And of course, what good is all of this filtering capability unless you can apply it to the records in your file?
Which you may do instantly, in version 238, by clicking the 'Apply' button at the bottom right of the title list form (see first screenshot, above).
Back to top