The latest version of MARC Report is 257
What's New?
Version 257 (June 2021) adds:
Complete details on the changes in this version
---
Other recent update announcements
Version 256 (December 2020) adds:
Support for MARC Update No. 31

Minor enhancements and bug fixes

A method to import/export a MARC Report configuration
Complete details on the changes in 256
---
Version 250 adds:
Support for MARC Update No. 25 (the dollar $1 update)

Support for validating RDA strings in non-English

A few minor fixes and tweaks
Complete details on the changes in 250
---
Version 248:
updated RDA relationships and cataloging checks

new features for utilities

cataloging updates, minor enhancements, fixes
A new set of cataloging checks has been added that will display a message if a name heading is missing a relationship (that is, a 100, 110, 700, or 710 without $e; and a 111 or 711 without $j). It is important to specify the relationship between an Agent and a Resource–this will make your data more useful, especially if that data is to function well in the world to come after MARC. However, we have made it possible for you to turn these checks off: goto the Options, and on the RDA page, in the Appendix I section, uncheck the option labeled Show reminder if missing relationships.
Complete details on the changes in 248
---

To update your MARC Report subscription, go to the Help menu, and select the 'MARC Report update' option.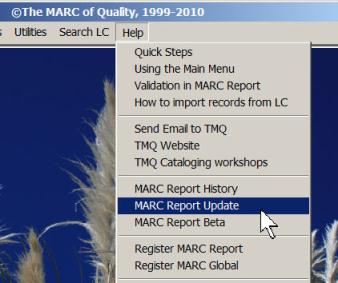 A web browser should open and display instructions for downloading the update.
Need help with installation?
For a detailed list of changes in the current version, click on 'Version history' in the sidebar on the left
Need an older version?
Send us an email if you need a link to an older version.
---
Notes on MARC Report updates
Program updates are available to registered users with current subscriptions.
If you have multiple accounts on your computer, login to windows as the user that registered MARC Report before downloading the update; if you login as an Admin user, you may receive a message that says 'updates are only available to registered users'.
Our upgrades are cumulative: if you miss an update, there is no need to install the missed update(s) in addition to the current one1).
First-time user? If you do not already have MARC Report installed, please visit this link:
http://www.marcofquality.com/soft/softindex.html
Back to top