Table of Contents
MARC Report and new computers
Whatever you1) do, when moving MARC Report _do not_ copy the program itself from one PC to another. This will create quite a few headaches, both for you, in trying to get the program to run, and for us, in trying to figure out what is going on when you ask for help.
Instead, follow the instructions here as though you were doing a first-time installation on your new computer.
Use the registration key that you were sent for the copy of MARC Report that is being installed on the new computer.
Once you are registered, go back to the old computer (if it is still available) and uninstall MARC Report.
The rest of this article covers how to move local customizations of the software from your old PC to your new one.
Preserving user customizations
All files and tables that can be customized by the user are stored in the 'Options' folder in your My Documents\MarcReport directory.
The type of customizations that can be preserved are any changes to the default sets (thus creating a new set) for the following: Cataloging Checks, Mandatory Fields, Local Subjects, Local Validation, Cancelled Messages, MARC Review cataloging checks, MARC Review saved reviews, and MARC Global saved reviews and autoreviews.
Although the location of 'My Documents' varies greatly from one windows environment to another, the last bit of that path is always the same:
Documents\MarcReport\options
1. If you have customized the program, copy the complete contents of the 'options' folder to a location that you will have access to on your new machine. This can be a network folder, a floppy drive, a flash drive, etc.
2. Once MARC Report is installed on your new computer, start the program, and then close it. 2)
3. After the program has been run once (or more), copy the 'options' folder from your old machine to your new machine, being sure to replace the contents when prompted by windows.
What to avoid
Make sure the program is not running when you copy files.
Do not copy any files from the top folder–'Documents\MarcReport'–on your old computer to your new computer–doing so will cause the program to fail on the new computer3).
Do not copy any version of the 'marcreport.ini' file from the old computer to the new computer–same result as above. This file is located in the 'Documents\MarcReport' folder.
Folders of interest
The following subdirectories of 'Documents\MarcReport' may contain data that you want to carry forward to your new computer. Please read through this list and decide if any of these apply to your setup and if copying is appropriate.
Options–as noted above, this is the location of all tables, 'sets', reviews, etc. that you have customized, as well as backups of these files
Here is a screenshot of the folders we are talking about above (from Windows 7). Regardless of the location of the 'Documents' folder, the contents of the 'MarcReport' folder will be very similar: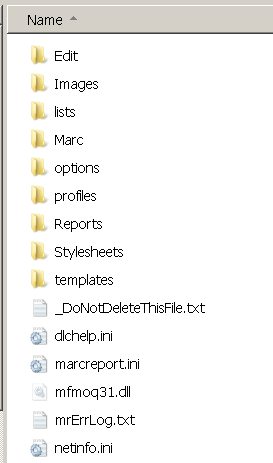 Back to top