The latest version of MARC Report is 247
What's New?
Version 247 adds:
support for MARC21 Update No. 23 (Dec. 2016)

support for excel-like reports in Batch mode

updated RDA relationships

cataloging updates, minor enhancements, fixes
Complete details on the changes in this version
---

To update your MARC Report subscription, go to the Help menu, and select the 'MARC Report update' option.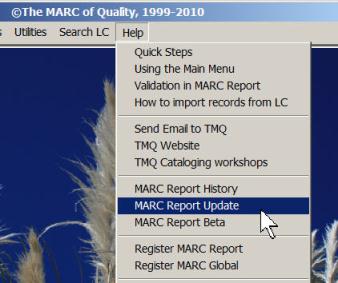 A web browser should open and display instructions for downloading the update.
Need help with installation?
For a detailed list of changes in the current version, click on 'Version history' in the sidebar on the left
Need an older version?
Send us an email if you need a link to an older version.
---
Notes on MARC Report updates
Program updates are availabe to registered users with current subscriptions.
If you have multiple accounts on your computer, login to windows as the user that registered MARC Report before downloading the update; if you login as an Admin user, you may receive a message that says 'updates are only available to registered users'.
Our upgrades are cumulative: if you miss an update, there is no need to install the missed update(s) in addition to the current one1).
First-time user? If you do not already have MARC Report installed, please visit this link:
http://www.marcofquality.com/soft/softindex.html
Back to top